Contact Info
If you want to buy / consult, please go through Red Ginseng Tacy Showroom
(No. 9 - 89/38/34 Lac Long Quan Street, Cau Giay District, Hanoi City, Vietnam)
See the product directly or contact:
Hotline:

0913 308 159


Tel:

024. 66 574 009


Mobile:

0947 786 763


Email:

info@tacy.com.vn
Red Ginseng Tacy Showroom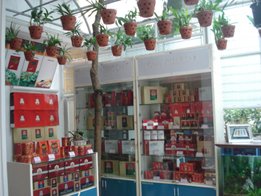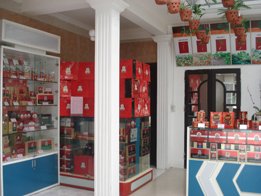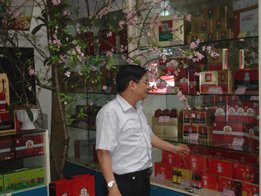 Korea Ginseng Corporation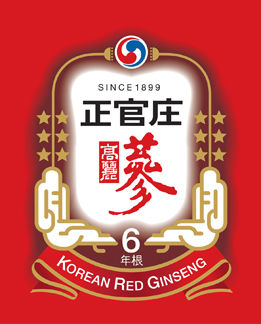 Statistical access
Total:
15.879.907
Access Day:
3.808
Online:
7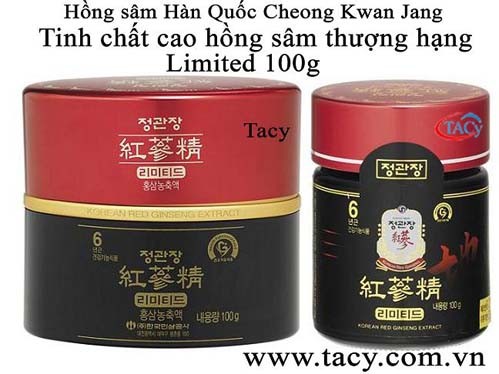 Korean Red Ginseng Extract Limited Bottle 100g
EAN-13: 8809023006318
. Price: 2,420,000 vnđ
. Production Company:
Korea Ginseng Corp.,(KGC)
. Address:
846, Heungsu-ro, Gyuam-myoen, Buyeo-gun, Chungcheongnam-do, Korea
. Trademark:
Cheong Kwan Jang
. Packing:
100g Per Bottle
. Dimension:
3.8 x 2.4 x 3.6 inches
. Size:
235*147*70 (mm) (Big box)
. Ingredients:
100 % Korean Red Ginseng Extract (Earth Radicle)
. Suggested Use:
Adult can take 1g per serving, up to 3 times a day, before or after meals. Children 3-15 years can take half the adult serving.
. Storage:
at room temperature
. Status:In stock
Korean Red Ginseng Extract Limited
100g
Ginsenoside Rg1+Rb1+Rg3 5.5mg/g
Korean Red Ginseng Extract made by concentrating premium Earth Grade. Using only the roots deepens the mild flavor and reduces bitterness.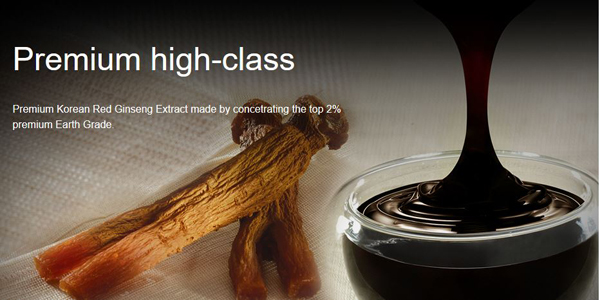 Premium
Premium Korean Red Ginseng Extract made from concetrated premium Earth Grade.
A brand with 100 years of tradition
CheongKwanJang's Korean Red Ginseng Extract is made from 100% Korean Red Ginseng with KGC's 100 years of knowhow and devotion.
Luxury packaging
Packaging that blends luxury with tradition.
Immunity-boosting elixir
Made from extracting and concentrating Korean Red Ginseng with 100 years of knowhow, it contains a consistent composition of active components and greatly boosts immunity.
Highly Recommended for Those
Premium Korean Red Ginseng concentrated extract

For those who want to enjoy Korean Red Ginseng Concentrated Extract made from the top 0.5% Cheonsam (Heaven Grade Korean Red Ginseng)

100% Korean Red Ginseng

For those who are looking for 100% pure Korean Red Ginseng

Premium Gift

For those looking to give premium Korean Red Ginseng as a gift

Health care

For those who want to boost a run down immune system
Nutrition Facts
Serving Size : 3g, Up to 1 times daily
| | | |
| --- | --- | --- |
| Amount Per Serving | Content | % Daily Value |
| Calories | 5kcal | |
| Total Carbohydrates | 1g | 1% |
| Sugars | 0g | |
| Protein | 0g | 0% |
| Fat | 0g | 0% |
| Sodium | 0mg | 0% |
| Index component | Ginsenoside Rg1+Rb1+Rg3 16.5mg | |
Ingredients
| | |
| --- | --- |
| Ingredients | Red ginseng concentrate(6-year-old, solid 64%, Ginsenoside Rg1+Rb1+Rg3 5.5 mg/g, Korean) 100% (raw material mixing ratio : red ginseng body 100%) |
| Expiration Date | 3 years from the production year |
| Category | Health Functional Food |
CONTACT INFO
If you want to buy / consult, please go through Red Ginseng Tacy Showroom
(No. 9 - 89/38/34 Lac Long Quan Street, Cau Giay District, Hanoi City, Vietnam)
See the product directly or contact:
Hotline:

0913 308 159


Tel:

024. 66 574 009


Mobile:

0947 786 763


Email:

info@tacy.com.vn
Category Products