Contact Info
If you want to buy / consult, please go through Red Ginseng Tacy Showroom
(No. 9 - 89/38/34 Lac Long Quan Street, Cau Giay District, Hanoi City, Vietnam)
See the product directly or contact:
Hotline:

0913 308 159


Tel:

024. 66 574 009


Mobile:

0947 786 763


Email:

info@tacy.com.vn
Red Ginseng Tacy Showroom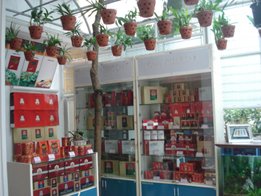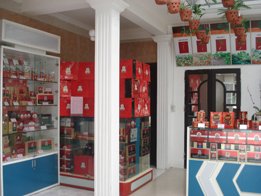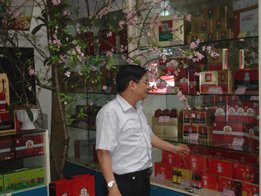 Korea Ginseng Corporation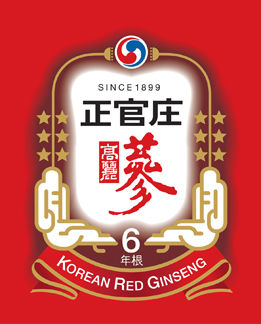 Statistical access
Total:
15.933.312
Access Day:
595
Online:
8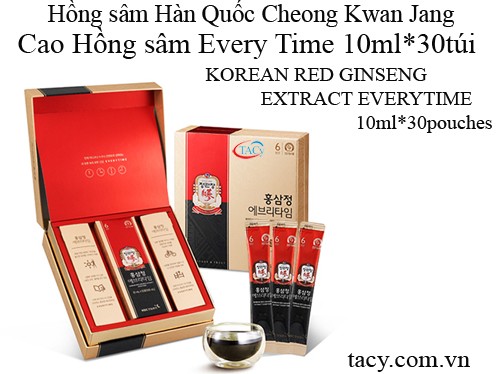 Korean Red Ginseng Extract Everytime 30pouches
EAN-13: 8809332391778
. Price: 2,110,000 vnđ
. Production Company:
Korea Ginseng Corp.,(KGC)
. Address:
2955, Bugwon-ro, Socho-myeon, Wonju-si, Gangwon-do, Republic of Korea.
. Trademark:
Cheong Kwan Jang
. Packing:
10ml*30pouches
. Ingredients:
Purified water, red ginseng concentrate (6-years-grown, solids 64%, red ginseng ingredient 70 mg/g over, Korean) 30% (raw material mixing ratio 6-years-grown Red ginseng 100% : red ginseng body 75%, red ginseng radicle 25%)
. Suggested Use:
Adult can take 1pouch(10ml), 1times a day, before or after meals
. Storage:
at room temperature
. Status:In stock
Korean Red Ginseng Extract Everytime 30pouches
Korean Red Ginseng Extract packaged in stick pouches that are easy to carry and consume anywhere, anytime.
Enjoy Korean red ginseng Extracts anywhere, anytime
100% Korean Red Ginseng Extract diluted with purified water only and packaged in stick pouches. This is CheongKwanJang's representative extract, in which 100 years of KGC tradition meet modern science.
Highly Recommended for Those
For the busy working people

For those who lead busy, working lifestyles

Younger generation

For the active younger generation who prefer convenience

Health care

For those who suffer from chronic fatigue and want to take care of their health

Energy boost

For those in need of an energy boost to mantain their busy schedules
Nutrition Facts
Serving Size : 10ml, Up to 1 times daily
Nutrition Facts

| Amount Per Serving | Content | % Daily Value |
| --- | --- | --- |
| Calories | 5kcal | |
| Total Carbohydrates | 1g | 0% |
| Sugars | 1g under | |
| Protein | 0g | 0% |
| Fat | 0g | 0% |
| Sodium | 5mg | 0% |
| Index component | Ginsenoside Rg1+Rb1+Rg3 11.6 ㎎ | |
Ingredients
| | |
| --- | --- |
| Ingredients | Purified water, red ginseng concentrate(6-years-grown, solids 64%, red ginseng ingredient 70 mg/g over, Korean) 30%(raw material mixing ratio 6-years-grown Red ginseng 100% : red ginseng body 75%, red ginseng radicle25%) |
| Expiration Date | 2 years from the production year |
| Category | Health Functional Food |
CONTACT INFO
If you want to buy / consult, please go through Red Ginseng Tacy Showroom
(No. 9 - 89/38/34 Lac Long Quan Street, Cau Giay District, Hanoi City, Vietnam)
See the product directly or contact:
Hotline:

0913 308 159


Tel:

024. 66 574 009


Mobile:

0947 786 763


Email:

info@tacy.com.vn
Category Products