Contact Info
If you want to buy / consult, please go through Red Ginseng Tacy Showroom
(No. 9 - 89/38/34 Lac Long Quan Street, Cau Giay District, Hanoi City, Vietnam)
See the product directly or contact:
Hotline:

0913 308 159


Tel:

024. 66 574 009


Mobile:

0947 786 763


Email:

info@tacy.com.vn
Red Ginseng Tacy Showroom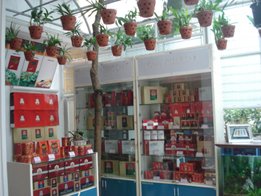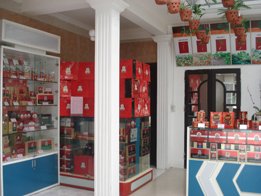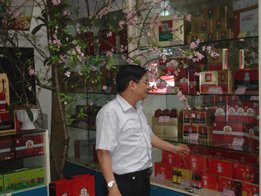 Korea Ginseng Corporation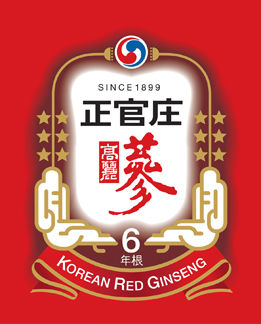 Statistical access
Total:
15.899.834
Access Day:
11.314
Online:
4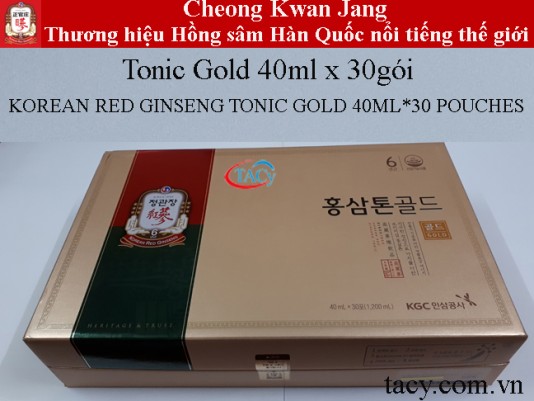 Korean Red Ginseng Tonic Gold 30Pouches
EAN-13: 8809223005274
. Price: 4,458,000 vnđ
. Production Company:
Korea Ginseng Corp.
. Address:
100 Pyeongchon - dong, Daedeok - Gu, Taejon, Republic of Korea
. Trademark:
Cheong Kwan Jang
. Status:In stock
Tonic Gold (40ml x 30pouches)
A health tonic made from 6-years-grown Korean Red Ginseng extract as the main ingredient, and formulated with traditional ingredients such as jujube, Korean angelica root, and other carefully selected adjuncts including agaricus blazei hypha. Its anti-fatigue and immunity-building properties make it a perfect energy booster for exhausted modern people.
SALES UNIT

40ml * 30 pouches
1 pouch daily

once a day

before or after meals

at room temperature
Boosting Your Family's Energy,
Korean Red Ginseng Tonic Gold
Rich-flavored health tonic, the one-a-day promise to boost your energy
Perfect Blend

Korean Red Ginseng tonic made from 6-years-grown Korean Red Ginseng extract (10.5%, 4.2g / 1 pack) as the main ingredient, and scientifically formulated with carefully selected adjuncts including jujube, Korean angelica root, agaricus blazei hypha extract, yucca extract, lion's mane mushroom extract powder

Convenient health care

Made into a liquid and packaged in convenient pouches, just one pack a day helps you take care of your health anywhere, anytime.

Health functional food

This health functional food, rich in antioxidants, helps to build the immune system, relieve fatigue, boost memory, and improve blood circulation by inhibiting platelet aggregation.
Highly Recommended for Those
Health care

For those who need special, intensive care for immunity and anti-fatigue

Plant-based ingredients

For those who wish to enjoy Korean Red Ginseng and plant ingredients all at once

One a day

For those who wish to fully absorb the health benefits of Korean Red Ginseng with just one pack per day

For the tired working people

For the tired working people who are overworked, drink frequently, and feel stressed out
Nutrition Facts
Serving Size : 2capsules, Up to 2 times daily
Nutrition Facts

| Amount Per Serving | Content | % Daily Value |
| --- | --- | --- |
| Calories | 50kcal | |
| Total Carbohydrates | 12g | 4% |
| Sugars | 7g | |
| Protein | 1g under | 1% |
| Fat | 0g | 0% |
| Sodium | 5mg | 0% |
| Index component | Ginsenoside Rg1+Rb1+Rg3 10mg | |
Ingredients
Ingredients

| | |
| --- | --- |
| Ingredients | red ginseng concentrate (6-years-grown, solids 60%, Ginsenoside Rg1+Rb1+Rg3 4 mg/g, Korean) 10.5% (raw material mixing ratio : red ginseng body 70%, red ginseng radicle 30%), Purified water, Palatinos, fructooligosaccharide, jujube concentrate (Korean), Crystalline fructose, Cyclodextrin syrup, Agave syrup, White mushroom mycelium extract, Angelica concentrate(Korean), Cyclodextrin, yucca Extractpowder, Hericium erinaceum mushroomExtractpowder, Mycelium of shiitake mushrooms powder, Natural herb flavour |
| Expiration Date | 2 years from the production year |
Suggested Use: Adult can drink 1 pouch daily.

Notice: Avoid exposure to direct sunlight, keep in a cool, dry place. If pregnant, nursing, or on medication, consult your physician prior to using this product. Check each ingredient carefully for allergies and interactions. Vegetable matter may settle to the bottom; this is normal and does not affect the function or quality of the product. Consume quickly after opening. Do not heat pouch in the microwave. KEEP OUT OF THE REACH OF CHILDREN.
CONTACT INFO
If you want to buy / consult, please go through Red Ginseng Tacy Showroom
(No. 9 - 89/38/34 Lac Long Quan Street, Cau Giay District, Hanoi City, Vietnam)
See the product directly or contact:
Hotline:

0913 308 159


Tel:

024. 66 574 009


Mobile:

0947 786 763


Email:

info@tacy.com.vn
Category Products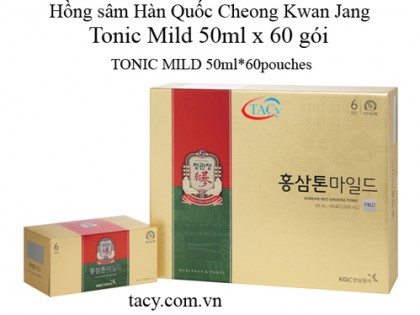 3.768.000 VND
In stock
2.100.000 VND
In stock