Contact Info
If you want to buy / consult, please go through Red Ginseng Tacy Showroom
(No. 9 - 89/38/34 Lac Long Quan Street, Cau Giay District, Hanoi City, Vietnam)
See the product directly or contact:
Hotline:

0913 308 159


Tel:

024. 66 574 009


Mobile:

0947 786 763


Email:

info@tacy.com.vn
Red Ginseng Tacy Showroom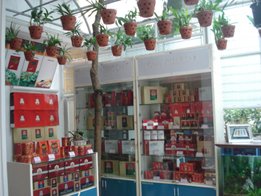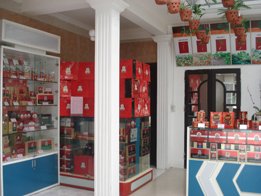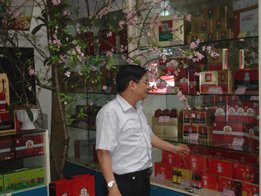 Korea Ginseng Corporation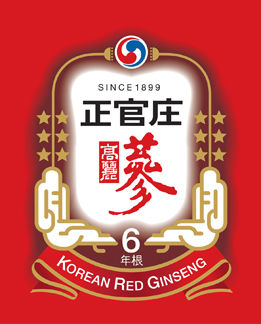 Statistical access
Total:
15.933.639
Access Day:
922
Online:
4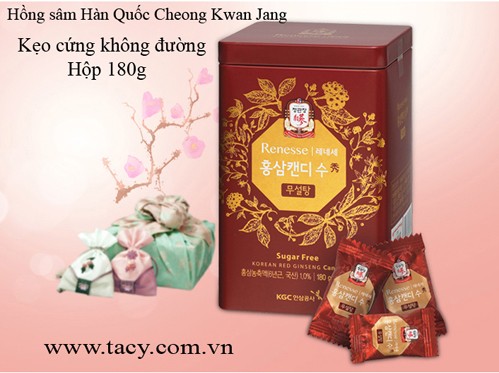 Renesse Sugar Free Red Ginseng Candy 180g
EAN-13: 8809332397589
. Price: 306,000 vnđ
. Production Company:
Korea Ginseng Corp.
. Address:
100 Pyeongchon - dong, Daedeok - Gu, Taejon, Republic of Korea
. Trademark:
Cheong Kwan Jang
. Size:
124,6*95*125 (mm)
. Status:In stock
Candy (180g) – Sugar Free
Specially designed to be sugar-free, Korean Red Ginseng Sugar Free Candies are full of the classic flavor of Korean red ginseng. Protect your teeth while enjoying this healthy treat.
to taste

to taste

always

at room temperature
Premium
No sugar candy containing 6-years-grown Korean red ginseng concentrate
Taste and fragrance

6-years-grown Korean red ginseng concentrate mixed with xylitol to produce even richer fragrance.

Convenience

Individually packaged for easier carrying. Great while driving or for refreshment.
Highly Recommended for Those
Premium dessert

People who want premium dessert with health in mind

Convenience

People who want to take Korean red ginseng at places they want

Fragrance of Korean red ginseng

People who want to enjoy fragrance of Korean red ginseng as well as its sweet taste

No sugar

People who want non-sugar candy
Nutrition Facts
Serving Size : taste
Nutrition Facts

| Amount Per Serving | Content | % Daily Value |
| --- | --- | --- |
| Calories | 20kcal | |
| Total Carbohydrates | 8g | 2% |
| Sugars | 9g | |
| Protein | 0g | 0% |
| Fat | 0g | 0% |
| Sodium | 0mg | 0% |
| Index component | | |
Ingredients
Ingredients

| | |
| --- | --- |
| Ingredients | maltito syrup 98.066%, red ginseng concentrate (6-years-grown, solids 60%, red ginseng ingredient 70 mg/g over, Korean) 1.0%, xylitol, malt sugar, lecithin, L-menthol, combined congener(herb flavour, peppermint flavour) soybean contain |
| Expiration Date | 2 years from the production year |
| Category | Candy |
CONTACT INFO
If you want to buy / consult, please go through Red Ginseng Tacy Showroom
(No. 9 - 89/38/34 Lac Long Quan Street, Cau Giay District, Hanoi City, Vietnam)
See the product directly or contact:
Hotline:

0913 308 159


Tel:

024. 66 574 009


Mobile:

0947 786 763


Email:

info@tacy.com.vn
Category Products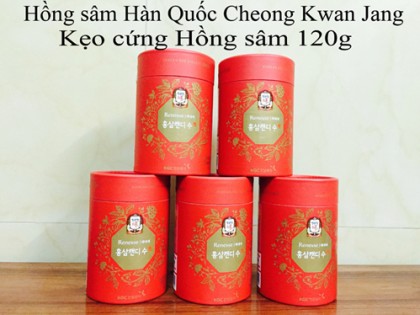 139.000 VND
In stock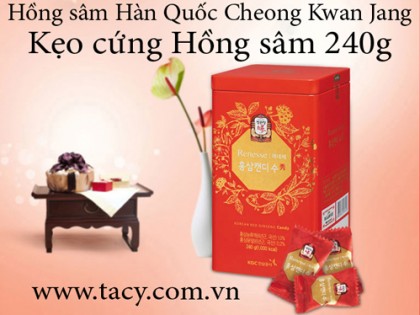 242.000 VND
In stock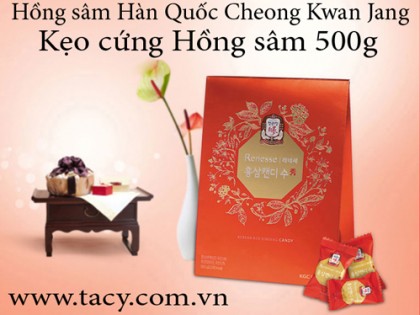 506.000 VND
In stock